Strategy Journeys – a Guide to Effective Strategic Planning
Strategic planning can be seen as complex, technical, remote from the day-to-day reality of your organisation, undertaken by an elite specialist executive group, producing threatening changes whose rationale is barely understood – or, perhaps worse still, having no worthwhile impact at all. It can be seen as too daunting, and many lack the confidence to design, plan and implement such an important challenge. Where to start? How to navigate the journey? How to make it happen?
Organisations have never had a greater need for a flexible, resilient and engaging approach to strategy than now.
I wrote 'Strategy Journeys' to demystify the concept of strategic planning. It propounds a 'first principles' approach to developing a strategic plan within the context of the individual organisation, and with the flexibility to adapt the process to focus on what really matters.
The book is written for senior managers and executives who are involved in strategic planning in their organisation, who are looking for an approach that will help their overall understanding of strategic planning and how to undertake it effectively.
It will encourage you to consider what to think about when developing a strategic plan, what processes might be appropriate and what might help with this. This book is about the practice rather than the theory of strategic planning; it will help you and your organisation think about how to approach the challenge of your own 'strategy journey' and give you the confidence to work through some of the issues involved.
Describing strategy as a journey is a logical and helpful analogy. Booth has clearly worked with many organisations to help them develop and follow through their strategic plans. This book provides a practical handbook to gathering the information needed to create an effective strategy. Other books cover that too, but where this handbook shines is in explaining how you support employees to use that information to make sense of the company's current position, to decide where collectively they wish to take the business and how to do it.
In my years on the faculty teaching strategy at Ashridge Business School, I read very many books on strategy theory but few on strategy good practice, so I recommend this to those aiming to make strategy succeed in practice
Tony Cram, formerly at Ashridge Business School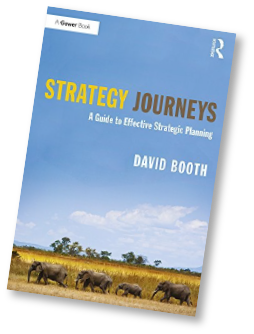 Shortlisted for the CMI Management Book of the Year Awards 2018
Available From All Good Booksellers, Including...
If you are considering purchasing the book for your company / organisation and would like to receive an inspection copy, please complete this quick and easy request form.
Subscribe
to my Strategy Insights newsletter
Each month, I offer insights into my strategic work, sharing examples and curating best practice. You'll also receive a copy of my most popular article, 'Strategy in an Age of Uncertainty' when you subscribe.
Let's Talk
Contact David
All great strategy journeys begin with a conversation. Talk to me today to take the first step.